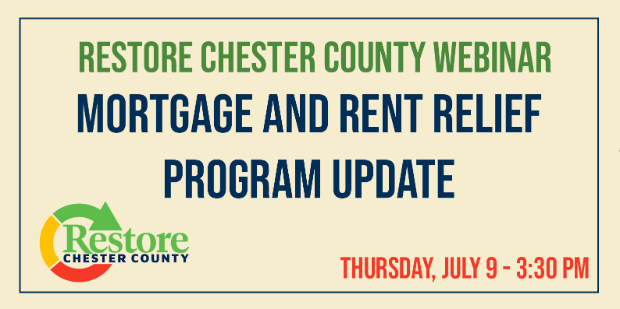 The next in a series of webinars hosted by the Chester County COVID-19 Business Task Force will focus on mortgage and rent relief for county residents.
The webinar covers the CARES Rent Relief program, created for Chester County renters financially impacted by the pandemic to pick up where assistance from the Commonwealth support program ends.
The webinar will feature Patrick Bokovitz, Director of the Chester County Department of Community Development, along with Dale Gravett, and Robin Senss, Director of Supportive Services and Special Programs for the Housing Authority of Chester County. Residents are encouraged to attend and ask questions.
Thursday, July 9th at 3:30 PM
Webinar Link: https://bit.ly/31Np4ly​
​Slides and resources from previous webinars can be found at the recently launched Restore Chester County website.